2022/04/26
TCS NINJA and DIGITAL Off Campus Hiring with Integrated Test Pattern 2020 2021 2022
TCS Again released one Off Campus Hiring to hire candidates for NINJA and DIGITAL Profile, Now this hiring is going to happen with ITP [Integrated Test Pattern] which we will be shown in the post below.
TCS Off Campus Hiring is open to B.E./B.Tech/M.E./M.Tech/MCA/M.Sc from the Year of Passing 2020, 2021 and 2022. Lets see all the details.
TCS Off Campus NINJA and DIGITAL Hiring for YoP 2020, 2021 & 2022
About TCS Off Campus Hiring
TCS Off Campus Hiring is an opportunity for you to make #TheBigMove and work with trending technologies, collaborate with thought leaders across various domains and achieve the successful career you aspired for.
With the TCS Integrated Test Pattern (ITP), your caliber and test performance will determine whether you will make #TheBigMove with a Ninja or Digital Offer.
Complete Details of TCS Off Campus Hiring
1. Percentage: Students should have minimum aggregate marks (All subjects and in all semesters) of 60% or 6 CGPA in each of Class Xth, Class XIIth, Diploma (if applicable), Graduation and Post-Graduation examinations.
2. Highest Qualification: Students should have completed their education within the stipulated course duration (i.e. No extended education).
3. Backlogs/Arrears/ATKT: Students should not have any pending backlogs or arrears.
4. Gap / Break in Education: It is mandatory to declare gaps in education, if any. Overall academic gap should not exceed 24 months until highest qualification. Relevant document proof, as applicable, will be checked for gaps in education.
5. Course Types: Only full-time courses will be considered (Part-time/Correspondence courses will not be considered). Students who have completed their Secondary and/or Senior Secondary course from NIOS (National Institute of Open Schooling) are also eligible to apply if the other courses are full-time.
6. Work Experience: Students with prior work experience of up to 2 years are eligible to apply for the TCS Off Campus Hiring Process.
7. Age: A student should be of 18 to 28 years of age to participate in the TCS Off Campus Hiring process.
8. Courses & Discipline: Students from B.E./B.Tech/M.E./M.Tech/MCA/M.Sc from any specialization offered by a recognized university / college are eligible.
Import Notes
You must have all your original academic documents readily available (Marksheets and degree certificates)
The TCS Integrated Test Pattern (ITP) for TCS Off Campus Hiring will be remote only
Communication related to the Test will be shared with you by TCS iON
TCS does not send job offers / any hiring related communication from unofficial email ids like Gmail, Rediff mail, Yahoo Mail, Hotmail etc.
TCS does not ask candidates to deposit any money for job offers
TCS is not associated with any external agency/company to conduct any interviews or make offers of employment on its behalf.
How To Apply with Complete Application Process
See The Official Job Notification:: Click Here
Step 1. Logon to the TCS Next Step Portal here
Step 2. Register and apply for the TCS Off Campus hiring process
Scenario A. If you are a registered user, kindly login and proceed to complete the application form. Upon submission, kindly click on 'Apply For Drive'.
Scenario B. If you are a new user, kindly click on 'Register Now', choose category as 'IT' and proceed to fill your details. Submit your application form and click on "Apply For Drive".
Step 3. To confirm your status, check "Track Your Application". The status should reflect as "Applied for Drive"
To get-test ready with TCS Resonance, click here.
Registration End Date: Friday, May 20th 2022
Test Pattern
The Integrated Test Pattern will now allow you to showcase your talent and skills, and basis your test performance, you will be either be shortlisted for Ninja Interviews or Digital Interviews.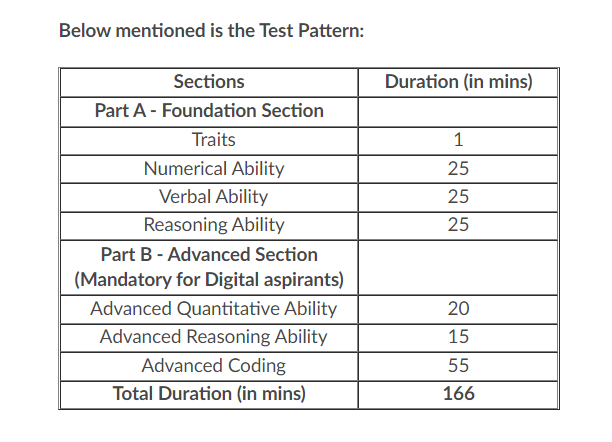 Find Out TCS Hiring Preparation And Guidance videos on From this YouTube playlist on our channel:: Click Here
More Ongoing Jobs For You
Find More Jobs From These Categories