2023/05/18
TATA WORK FROM HOME OPPORTUNITY | ANY GRADUATE | ANY DEGREE | PRIZES AND JOB

Why you cannot miss this opportunity?
In this PAN-India quizzing competition to be held online starting with a PAN-India prelim, the country is divided into 24 clusters.
After two levels of online prelims, the top 12 finalists from each cluster will be invited for wild card finals out of which the top 6 finalists will then compete in the 24 online cluster finals.
In each of the cluster finals, the top scorer will be recognized as the winner and the second top scorer will be announced as runner-up.
The 24 clusters will be further divided into four zones, East, West, North, and South, with each Zone composed of 6 clusters.
The winner from each of the 24 cluster finals will compete in the four Zonal Finals.
The winner from each Zonal Final will directly qualify for the National Finals.
There will be a Wild Card Final for the four runners-up from each of the Zonal Finals, and two of them will also qualify for the National Finals.
Finally, six finalists will compete at the national final event.
Rewards
The winners and runners-up at the cluster finals will receive prizes of Rs. 35,000* and Rs. 18,000* respectively.
The winner of the National Final will receive a grand prize of Rs. 2.5 lakhs* along with the coveted Tata Crucible Trophy.
Top 3 national finalists will be eligible for a coveted internship** with Tata Group!
*Subject to Applicable Tax Deductions at source.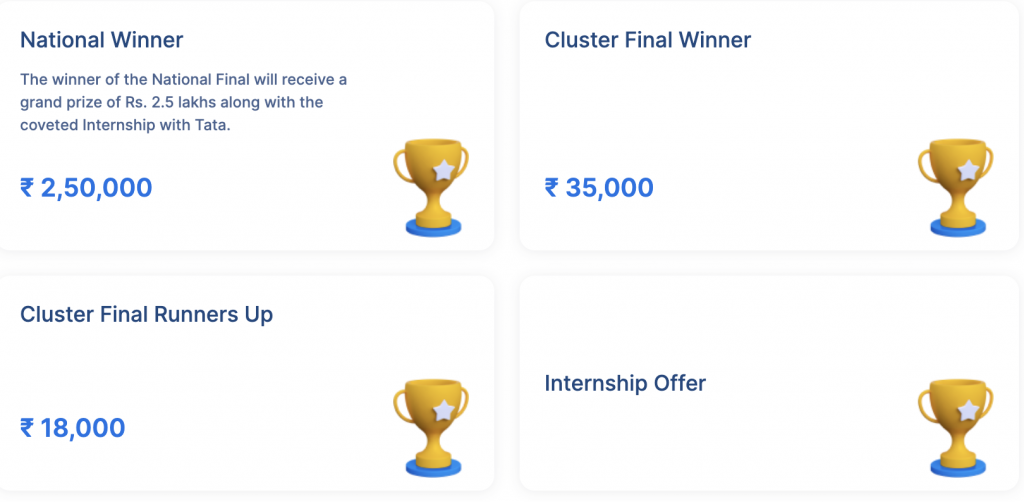 How To Apply
More Ongoing Jobs For You
Find More Jobs From These Categories