2022/05/27
Non Coding Career Option For Engineers or Coders
There are people who belong to a technical background like Engineering, but they want to explore non coding careers and careers that do not include coding or include less coding to be written.
Some people are like explorers, they don't want themselves stuck into one career they want to explore more fields which includes activities like "meeting new people", "Field Work", "Teaching" etc.
Now might also have come around this post with the intention of finding some Non Coding career options for Engineers or technical background candidates or you might also be a Coder who wants to pursue some non coding careers. Here in this post we have researched about some Non coding career options for Engineers or technical background people.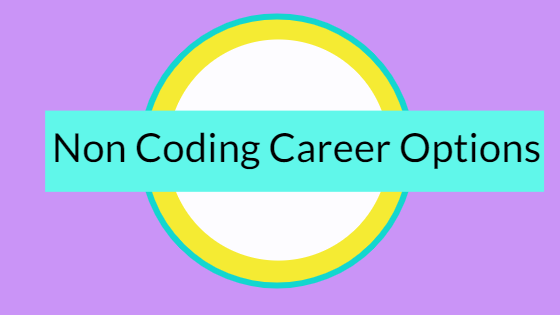 We have listed some Roles that do not require coding or require very less coding. There can be too many career options, we have researched and gathered some of them and listed them in this post.
You can choose according to your interests, capabilities and preferences. Remember These listed career fields can be further divided into different sub roles for an instance Graphics designing includes sub roles like Social Media Designer, Product Designer, Logo Designer etc.
According to the Indian Jobs Market these career options and profiles are generating Huge amount of opportunities every year, Lets See…
List of Some Non Coding Career Options
1. Graphics Designer
A Graphic Designer communicates ideas and information through visuals concepts. Primarily using design software, they create compelling visuals. Graphic Designers strategically combine design elements to develop layouts, advertisements, reports, logos, packaging, social media post designs and more.
2. UI/UX Designer
UI/UX Designer responsibilities include gathering user requirements, designing graphic elements and building navigation components. To be successful in this role, you should have experience with design software and wireframe tools like Adobe XD FIGMA, CANVA Etc.
3. Foreign Language Speaker.
There are too many opportunities available for Foreign Language speakers in India. Big MNC's Hire Person who has knowledge about languages like Japanizes, Italian etc.
4. Digital Marketer.
Digital Marketing is a ever green career option. This field can be further divided in sub role like SEO Specialist, Ads Manager, Content Marketing Management etc.
5. Video Editor.
As a Video Editor You Edit Videos that inspires audience and attract potential clients. And motions graphics are always be a best way to spread Information.
Companies hires video editors, they create videos for their own business and clients.
6. Networking/ System Administration.
System Administrators organize, install and support an organization's computer systems. These include local area networks (LAN), wide area networks (WAN) and other data communication systems such as intranets or internet cafes within their company.
7. Personality Development and soft skills development Trainer.
Personality development coach is a professional who helps people achieve their specific goals and overcome impediments to personal growth.
8. Content writer or Technical Writer.
As A Content Writer, You will be responsible to write articles or blogs for website holder and business owners. As a Technical writer you will be responsible for writing articles related to technical topics and Technologies.
9. Talent Acquisition specialist / Technical Recruiter.
10. Customer Support/representative careers.
11. Tutor and Online Teacher.
If you specialized in any subject or Technology and you have some interest in teaching people online/offline, you can start you career as a Teacher. There are multiple Ed-Tech startups or Institutes who hires talented people to teach on there platform.
You can start you own Tutor service also, It can Be Online or offline. You can teach people on platform like YouTube.
Other Career Options
Animation Careers.
Data Analyst.
Business Analyst.
Social Media Handler.
Business Development Associate.
Virtual Assistant.
MIS/Excel Executive.
Operations Manager.
Sales and Marketing careers.
Voice Over Artist.
Scripts and Stories Writer.
Content Creation [Video Content | Blogs | Graphics etc.].
If you have an unique and amazing idea, you have everything that is needed to get started successfully, you can introduce your own startup also, It can be online or offline.
And There Are Many Other Career Options Exists, You can research on the Internet.
You May also like to read these articles
How to make a professional resume for free
How to Transform Career From Non Tech Background to Tech Jobs
How to prepare for Aptitude test assessment with free resources
Most frequently asked HR Interview Questions with Sample Answers
About Author
Anurag