2022/01/23
HR Interview Questions and Answers for Freshers
Most of the recruitment processes consist of a round where you have a conversation with companies HR person to know your candidature.
Now we have listed down the most frequently asked HR interview questions with sample answers for you in this post: whether you are a technical student or whether you are a non technical candidate going for your job interview you must have prepared yourself for your HR interview.
We will also share some sample answers but, you only have to give answers in your HR interview according to you.
Don't just copy these questions; these are just dummy questions. Just deliver questions with your twist.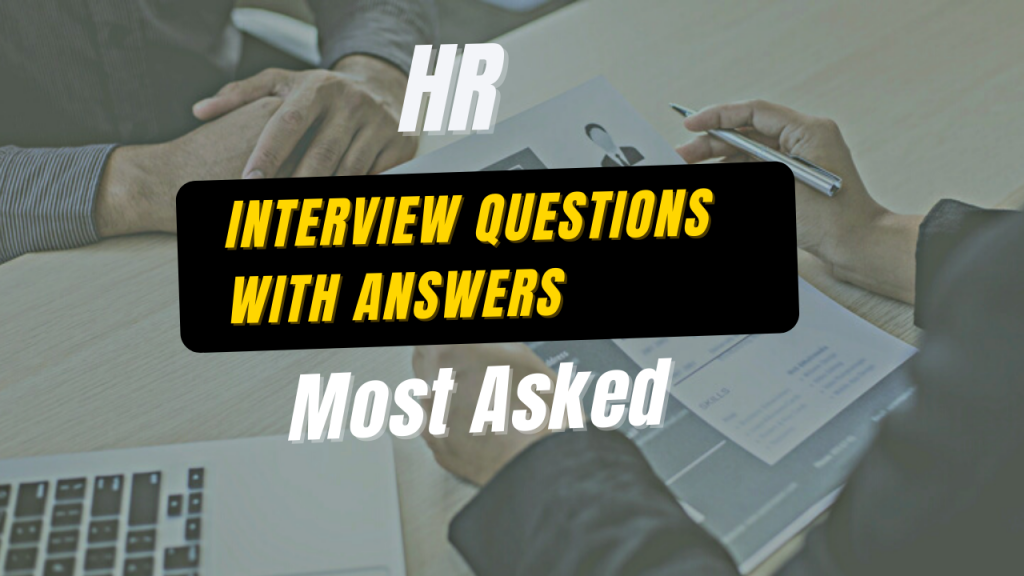 Some Tips To Perform Good In You HR Interview
Be Honest With You Answers.
Always Greet The HR Interviewer.
Dress Up Well.
Take Your Time and Think About What to Answer that will ace your HR Interview after that, finally Deliver the Answer.
List of Most Frequently Asked HR Interview Questions with Answers
Tell me something about yourself
This is the most important question in any interview. Generally this question get asked in the beginning of the HR interview round so you have to deliver a proper answer for this that will make a positive impression.
Sample answer For technical candidates
Good morning mam/sir.

Thank you to mam slash sir for giving me this opportunity to introduce myself.

My name is Anurag Shrivastava. And I am from Delhi.

I have done my I engineering in computer science background from xyz University Delhi.

I have done my schooling 10th and 12th from my hometown xyz Delhi.

My skills are front end development with react, Java for backend and I am also good in data structures and algorithms.

I have done my internship from xyz company private limited. Where I have implemented a dashboard for the sales for one of E-commerce projects. I have used HTML CSS bootstrap react and node JS for the project.

Using my technical skills I have created to project the first one is an office management application using react.

and the second project is an eCommerce website using react and node JS.

Now I want to get into an organization so I can upgrade my technical skills and other skills like communication and teamwork skills.

I am a quick learner. I have an interest in writing content and making videos online.

That is all about me thank you.
Sample answer For Non Technical Candidates
Good morning Mam/Sir.

Thank you for giving me an opportunity to introduce myself.

My name is Praveen Kumar. I'm from Delhi.

I have completed my 10th & 12th class from CBSE Board.

I pursued my BCom from Delhi University.

I have one year of working experience in ABC company Pvt. Ltd as Data entry operator and Tele calling.

My long-term goal is to achieve a good position where I can build my career and help the organization.

I have great communication skills.

My strength is I am a quick learner and I can adjust myself in any environment.

In my family, there are 5 members including me. My father works in a private company and my mother is a housewife. I have one-elder brother who is also working in an IT company.

My hobbies are playing games and reading Books.

It's all about myself. Thank You.
Why do you want to work in our company?
I want to work in a reputed company like yours where I can improve my skills and learn new things. As a fresher, I have no experience, so, I think your company will help me in a good manner to gain experience.
Why should we hire you?
As a fresher, I don't have much practical experience but I do have theoretical Knowledge. I am enthusiastic and curious to learn new things and polish my skills in your company so that I can contribute to the growth and development of the company.
Tell me something about your family background?
There are 4 members in my family including me. In my family my parents, me and my younger brother are there. My father is a Data Entry executing in one private company and my mother is a housewife. My younger brother is studying in 10th standard right now. That is all about my family background.
Tell me something about our company.
Now, To answer this question you need to research and read about the company that you are going to interview.[Before going to the interview].
What motivates you to do a good job?
I want to have financial independence and fulfill all my dreams and to achieve greater heights in my professional career. That's why I work hard and keep myself motivated every time.
What makes you angry?
I'm usually a Patient type of person. But, when someone keeps on lying things And, behaving roughly also makes me angry.
Tell me about your college journey and projects that you worked on?
To answer these questions you can tell about all the good achievements that you have achieved in your college life and projects that you worked on during your college education.
What are your hobbies and interests?
You can tell your hobbies and interests like Cricket, Teaching, Video editing, singing, dancing ect.
Who inspires you in your life and why?
My parents have always been my inspiration. Whatever they have achieved in their lives being dedicated to work and family as well despite all the hard times. They have sacrificed a lot for my career. This inspires me a lot.
What are your strengths and weaknesses?
"I have several strengths namely I am patient, committed, honest and self-motivated.
My greatest weakness is that I don't like getting interrupted when I am seriously into something.
Where do you see yourself five years from now?
In 5 years from now, I see myself as a knowledgeable and respected person in my company and I have an in-depth knowledge of the industry and the domain.
Can you work under pressure?
I can work under pressure. This is the time to prove our creativity and skills to finish the work.This gives us confidence.
Are you willing to relocate?
Yes, I am willing to relocate anywhere. I love traveling. It gives new experiences by meeting new people & places and also gives a lot of memories.
What are your salary expectations?
As a fresher, I expect a range that is in accordance with the industry standards giving due consideration to my qualification and experience.
Or
Most companies specify there pay packages, if not, you can tell you salary expectations in a positive way.
Do you have any questions to ask?
Here you can ask about Work culture, Benefits for employees and learning opportunities.
Also See This