2023/01/03
TCS BPS Fresher Hiring for 2023 Batch with Syllabus process and Registration
Here is a Great News for all the 2022 batch Students, TCS has anounced The TCS BPS Hiring For 2023 Batch Freshers. In this We will talk about all the important details about the TCS BPS Hiring 2023, Like Registration Process details and Syllabus, Exam Date and last date to apply etc. So Do read thsi post completelly.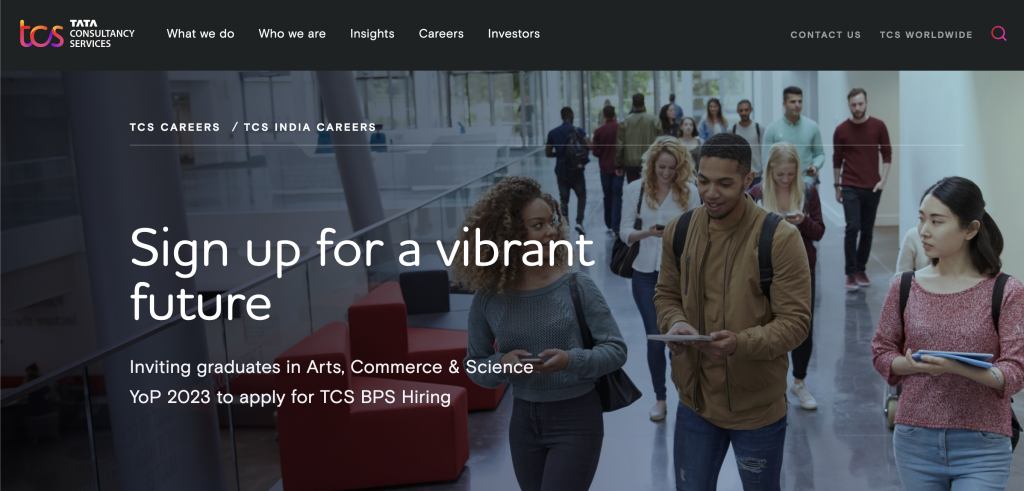 TCS BPS Fresher Hiring for 2023 Batch
About TCS BPS Fresher Hiring for 2023 year of passing (YoP) graduates.
TCS has curated exclusive opportunities for Arts, Commerce & Science graduates from the 2022 year of passing to apply for exciting careers and make #TheBigMove
Exceptional performers will be part of TCS' fastest growing units – Cognitive Business Operations (CBO), Banking and Financial Services and Insurance (BFSI), and Life Sciences in various enriching roles that amplify their career growth.
Eligibility
Disciplines: Full time graduates from B.Com, BA, BAF, BBI, BBA, BBM, BMS, BSc – IT/CS/General, BCA, BCS, B.Pharm, M.Pharm – 2022 Year Of Passing candidates can apply
Backlog Criteria: Candidates should have NO active backlog at the time of appearing for the test (Backlogs to be cleared within the stipulated time duration)
Gap Criteria: Overall Gap in academics should not exceed 2 years
Extended Education: Candidates should not have any extended education in their highest qualification
Work Timings: Candidates should be comfortable working in a dynamic work environment / rotational night shifts depending on project requirements
Background Verification: TCS will be conducting eligibility checks at various stages of the selection process. If a candidate is found to be ineligible at any stage of the process, TCS reserves every right to not proceed ahead with the candidature
Details About TCS BPS Hiring 2023
Qualification : Full time graduates from B.Com, BA, BAF, BBI, BBA, BBM, BMS, BSc – IT/CS/General, BCA, BCS, B.Pharm, M.Pharm –  of the 2023 Year Of Passing (YOP) can apply.
Passout: 2022 Batch
REGISTRATION END DATE: 20th January 2023
TEST DATE: 3rdth Feb 2023
INTERVIEW DATE: To be announced post test results
TEST PATTERN AND SYLLABUS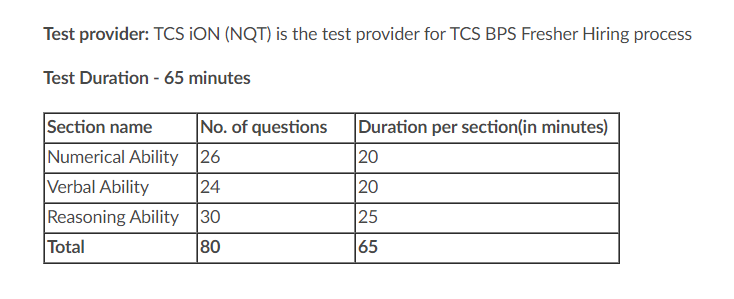 Important Note
You must have all your original academic documents as applicable (Till fifth semester marksheets)
Communication related to the Test will be shared with you on your registered email ID from TCS iON
TCS does not send job offers / any hiring related communication from unofficial email ids like Gmail, Rediff mail, Yahoo Mail, Hotmail etc.
TCS does not ask candidates to deposit any money for job offers
TCS is not associated with any external agency / company to conduct any interviews or make offers of employment on its behalf.
How to Apply and Application Process
Step 1. Logon to the TCS Next Step Portal Click Here
Step 2. Register and apply for the TCS BPS Fresher Hiring process. Kindly click on Register Now, choose category as 'BPS' and proceed to fill your details.
Step 3. Submit your application form
FULL VIDEO DESCRIPTION

You Can Also Look At These Posts